"We've witnessed firsthand how mentoring can effect change at a grassroots level."
Judge Saint Clair would like every kid who appears in his court to have a mentor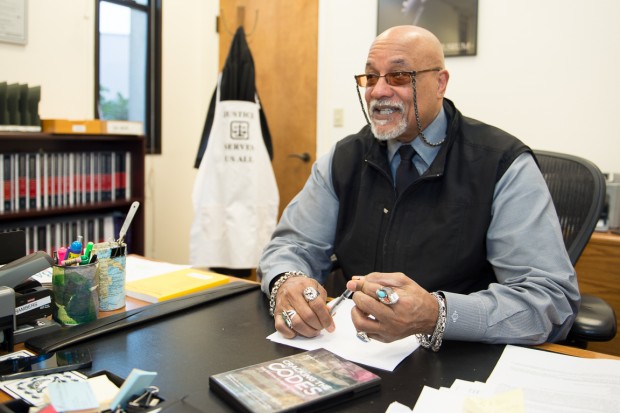 Judge Wesley Saint Clair presides over Truancies, Juvenile Drug Court, and Trials
"Many of the youth I see are disconnected from school and parents. They have a distorted view of the world," says Judge Saint Claire. "Their aspirations and goals are misguided."
The youth Judge Wesley Saint Clair sees in his court often come from a dysfunctional family and/or poverty. "These kids have no control of their lives, and they're told that they are nothing. They often experience structural racism or individual racism. Additionally, like all adolescents, they are also dealing with hormonal and testosterone changes," explains Judge Saint Claire.
When you are disconnected from your family, and your school … your new family is the one you find with your peers. "These kids feel abandoned. 'Who wants me?' Well, my homey's and my buddies … they accept me unconditionally," says the Judge. "It's hard to compete with the bright lights, and loud music, and money that the street can sometimes provide. Kids like instant gratification … and the street keeps them engaged."
The adolescent brain is looking for an adrenaline rush. "Science tells us that the long-term impact of criminal behavior, and substance abuse, is damaging to the developing brain … and can have long term consequences," declares Judge Saint Claire.
Mentors can offer much-needed perspective
"I would like every kid who comes through the court system to have a mentor. In court, I refer, I don't order, so, the kid has to agree to a mentor."
Says Judge Saint Claire, "We need mentors who match on a lot of levels … and cultural is one of the levels. Unfortunately, we do not have enough volunteer black mentors. Mentors offer great stability for these vulnerable youth and we need more of them."
"Often times the kids don't see the value in it," explains Judge Saint Claire, "but when a mentor provides a relationship of trust, the kids get it. Mentoring is a critical piece of the solution to get kids back on track."
Judge Saint Clair was elected the Presiding Judge for King County District Court in the fall of 2001 and served as presiding judge until July of 2004, when he was appointed to the King County Superior Court by Governor Gary Locke.
In January of 2012, Judge Saint Clair was assigned to the King County Juvenile Court, where he currently presides over Truancies, Juvenile Drug Court, Offender Calendars, and Trials.
He has been recognized for his work in the drug courts by the New York Times as well as the drug courts themselves being recognized by the National Association of Drug Courts.
In 2003 Judge Saint-Clair was awarded the King County Bar Association's Outstanding Judge of the Year. In January 2009, Judge Saint Clair was the recipient of the King County Martin Luther King Jr. Humanitarian Award.