One-on-one mentoring
Research shows that mentors play a powerful role in providing young people with the tools they need to make better decisions, stay in school and avoid risky behavior. Students who participate in our one-on-one mentoring program are matched with same-gender adults who share their hard-earned wisdom and engage with young people from a place of genuine interest and respect. Many of our mentors have been "there" and can provide the kind of insights that are so critical for today's youth.
The 4C Mentoring Model is a win-win for both the mentee and the mentor. Our mentors are happy to give back to their communities and share their experiences in a supportive, structured and non-intimidating environment. Often, they provide the only reliable insight into what makes up positive values and behaviors in an adult world, as opposed to what a young person sees in the movies, on the internet or on social media.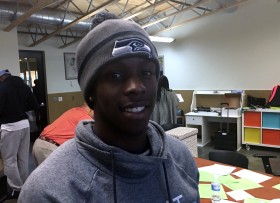 Meet a mentor: John Ross
How did you get connected with 4C mentoring? One of my professors suggested I look into getting involved. While I get credit for doing this, it's not really about the class credit. I'm just interested in nonprofit organizations for kids because that's something I would like to do sometime.
What is your role as a mentor?  My role here is to inspire these kids, and to see how non-profits perform.
Did you have a mentor growing up? I've had many mentors and still do. I have really great parents who are my real mentors. I asked lots of people for advice and I consider them mentors. My coaches are also my mentors. My grandmother used to tell me that I have two ears and one mouth and that means you should listen twice as much as you talk. So I listen.