Tutoring
Tutoring is a one-on-one relationship between a tutor and student, either in-person or in a virtual setting. Students receive a personalized level of engagement, interaction and support that is difficult to come by in a daily classroom setting. A structured routine helps the student build a relationship with the tutor, based on honesty and trust.
Often, our tutors come from the same community or background as their students and know full well the challenges and barriers facing young people. The more positive educational experience we can provide, the more a young person can learn, grow and succeed. Tutoring helps at-risk students get back on track and bridge the gap to where they should be academically.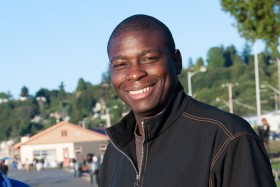 Meet a mentor: Ahmed Stewart
Why did you want to become a mentor? Young black males need to have role models that look like themselves. And, with my Caribbean background, I could show them a different mindset.
How did you hear about the 4C Coalition? About three years ago, I was at a volunteer fair sponsored by the Seattle Urban League Young Professionals. I visited the 4C booth and decided to become a mentor. My goal was to try to make somebody see things in a way that they were not accustomed to … and broaden their horizons.
What activities did you share with your mentee? We saw each other at least twice a month for over two years. We went to movies, met for breakfast, visited museums. I enjoyed his company. Today he's on the football team. His peer group is strong. I can't compete with all the things in his life. He sort of outgrew the need for a mentor but I hope I've planted something in his mind that will benefit him along the way. I understand he plans on going to college to be an aeronautics engineer.