History of the 4C Coalition
The history of our organization is rooted in education, social services and the faith community. Read more about our beginnings.
The first meeting is held.
Oct. 6, 1999: Several pastors, church representatives, educators and social agency and mentor program representatives meet at the Juvenile Rehabilitation Administration in Seattle to explore how faith communities could work together to mentor youth. They discuss how churches large and small can share resources to better serve our community's youth. They also brainstorm how to offer training and technical assistance to churches so they can more effectively participate in mentor, donor and volunteer recruitment.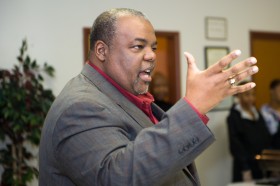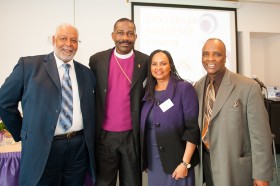 Operation Uplift is born.
Operation Uplift, a collaboration between Hazel Cameron; Rev. Jimmy James, Big Brothers Big Sisters; Katie Bagby, JOY Initiative and the Church Council of Greater Seattle, and Rev. Eugene Rivers, TenPoint Coalition, Boston, was the result of this initial meeting.
Oct. 25, 1999: The First African Methodist Episcopal Church hosts a pastors' luncheon to discuss church involvement with Seattle's youth population. Rev. Rivers, a former gang member in his youth, gives a powerful and inspirational message about the importance of mobilizing clergy and supporters to save our communities and our youth.
Oct. 26, 1999: A round-table group involving pastors from various Seattle churches and representatives from social agencies and mentoring programs meets to continue the dialogue and establish partnerships.
Nov.16, 1999: Reverend John Wyatt of Ebenezer A.M.E. Zion Church hosts representatives from the October meeting in an effort to identify solutions for the community youth crisis.
The 4C Coalition is founded.
1999 – 2001: Clergy, community members and agencies continue to meet in churches across Seattle to collaborate and form a 501(c)3 nonprofit organization.The 4C Coalition is founded.
2001: The 4C Coalition becomes a core partner in a $21 million, five-year program called the Seattle-King County Reclaiming Futures Initiative, a model program focused on helping teenagers caught in the cycle of drugs, alcohol, and crime.
2009: As one of two successful proposals for the City of Seattle's Youth Violence Prevention Initiative, the 4C Coalition provides community-based one-on-one mentoring for 35 youth. In 2013, our services were expanded to include group mentoring.
2009-2012: The 4C Coalition provides services to youth aged 14 to 18 who are returning to the community from detention, part of a DOL Reentry Grant. During the contract's term, we matched 28 youth each year with individual or group mentors.
2010: The 4C Coalition begins a successful partnership with the King County Prosecuting Attorney's Office as part of its Truancy Prevention & Education Reengagement program.
2010 – present: The 4C Coalition receives funding from United Way to support activities that keep youth connected to school and the communities in which they live.
Into the future.
Our goal is to continue to serve the youth of King County. We are grateful to our generous donors for their support over the years, to our partnerships with city and county programs, and to our many volunteers and mentors who donate their time.
Will you consider joining us in the cause by becoming a mentor or donor today? Our youth are counting on us.