Mentoring Youth In King County
A Powerful Force for Change
The 4C Coalition is a community-based nonprofit founded in 1999 that helps Black and other youth of color succeed in school and in life. We offer one-on-one mentoring, group mentoring and tutoring to 12- to 17-year-olds in King County.
Participating students are matched with carefully trained Black adults who provide support, friendship, encouragement and advice. We want to make sure these youth graduate from high school—avoiding gangs, violence, addiction and prison — and then go to college, find meaningful employment and lead productive lives.
Project Ubuntu
When these middle schoolers go onto high school, they join the virtual Monday night Project Ubuntu group. This group focusses on have deeper conversations about life's challenges and how to navigate them.
The 4C Coalition partners with Seattle CARES Mentoring Movement and the University of Washington to implement 4C's Project Ubuntu.
Underwritten by Seattle city's Best Start for KIDS, 4C's Project Ubuntu is a mentoring program to help Black youth overcome toxic stress caused by family dysfunction, poverty, and structural racism.
Ubuntu is a Zulu word that loosely means, "a collection of values and practices that people of African origin view as making people authentic human beings."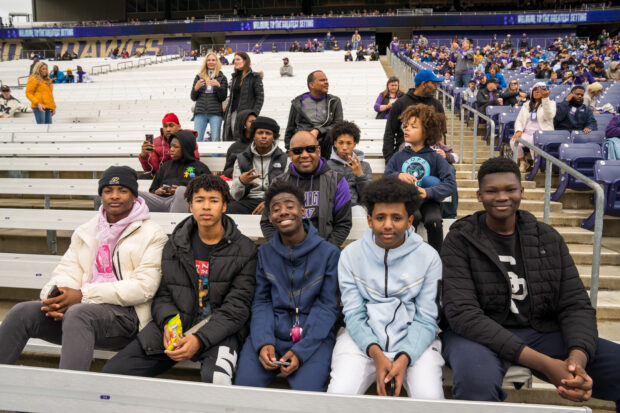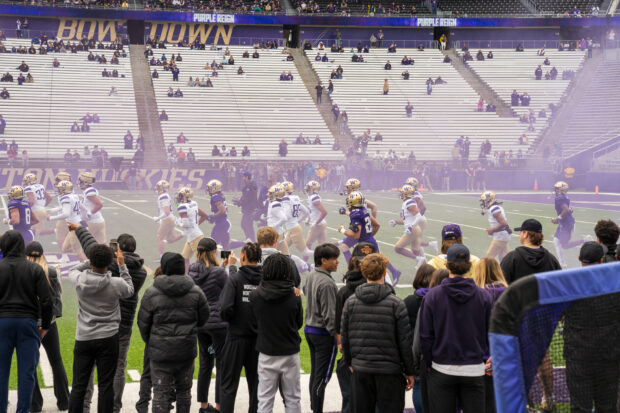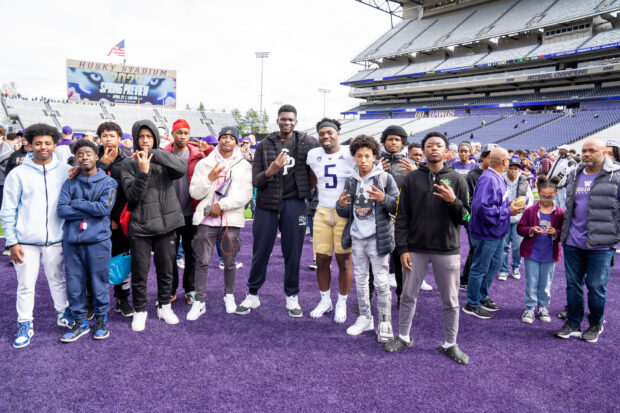 These middle school students graduated from the Seattle CARES RISING program. They attended the 2023 spring football game at the University of Washington.
---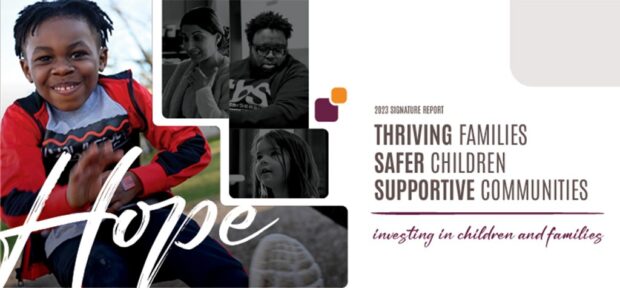 The 4C received a generous grant from Casey Family Programs
Founded in 1966, Casey Family Programs works in all 50 states, to influence long-lasting improvements to the well-being of children, families, and the communities where they live.
We believe:
Every child deserves a safe, supportive, and permanent family.
Every family will thrive with the support of a caring community.
Every community can create hope and opportunities for its children and families.
Every one of us has a role to play in Building Communities of Hope.
---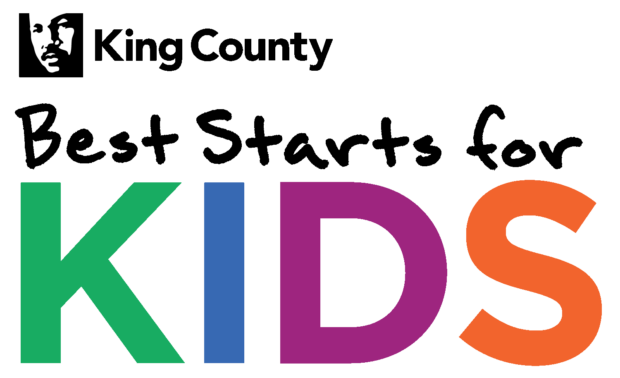 ---
From Quarterbacks to Cornerbacks to Running Backs—They Give Back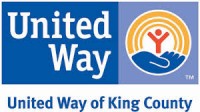 ---
UW Football Players Volunteer in Group Mentoring Program
By Hazel Cameron, Executive Director, The 4C Coalition
We are huge fans of the nationally ranked University of Washington football team. We celebrate their excellence on and off the football field. Several of the players mentor youth in our 4C Coalition group mentoring program that serves youth ages 12-17. The University of Washington Athletic Department and American Ethnic Studies Department have been in this partnership with the 4C Coalition for the past seven years.
The program is designed to inspires critical thinking, skills development, and activism. The players complete our mentor training program and participate weekly. The student mentors facilitate discussions that vary from using social media to financial planning to making good decisions, and to think about their actions before they act or speak.
Student mentors get college credit for mentoring. Previous mentors have included NFL players John Ross, Myles Gaskin, and Vita Vea. The current UW football mentors are: Demario King, Michael Penix Jr., Cameron Davis, Devin Culp, Edefuan Ulofoshio, ZiaonTupuola-Fetui, and Sam Adams.
The University of Washington student-athletes leave a big impression on our kids. Our 12 to 17-year-old mentees are inspired. Feedback from parents is positive. Big hats off to the Huskies football players for their success this year. We can see their excellence on the football field… and we have first-hand knowledge of their excellence off the field.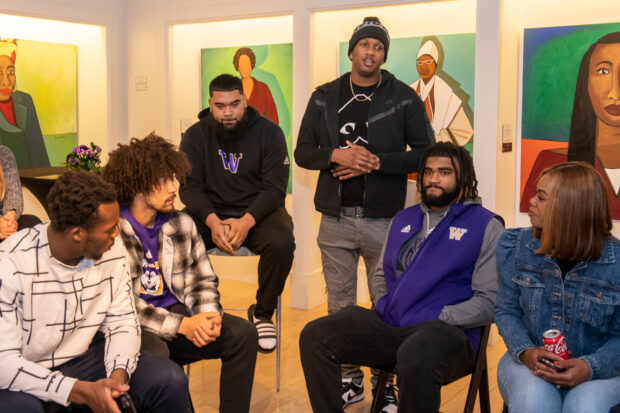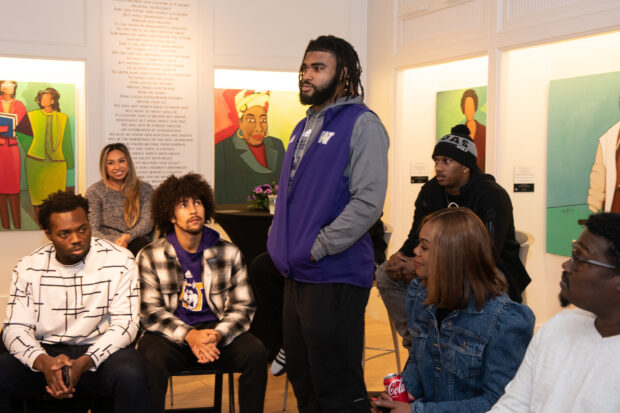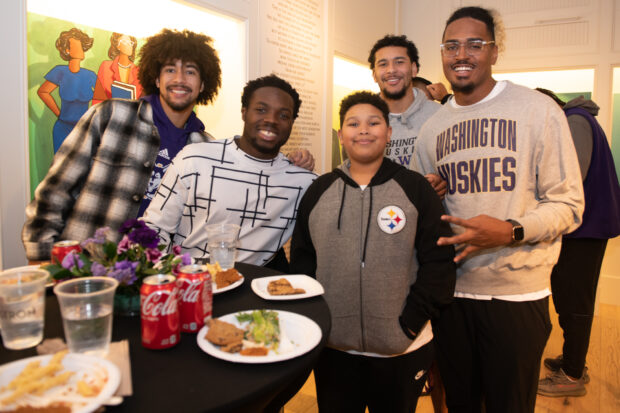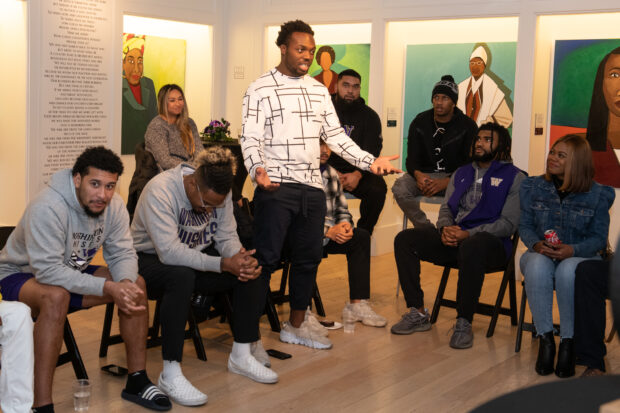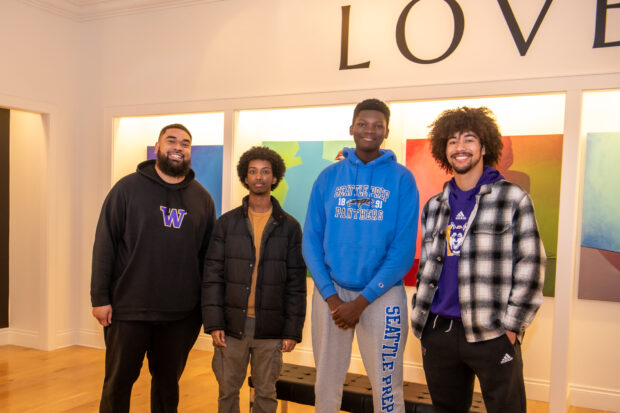 Photographs by Rebecca Sullivan Photography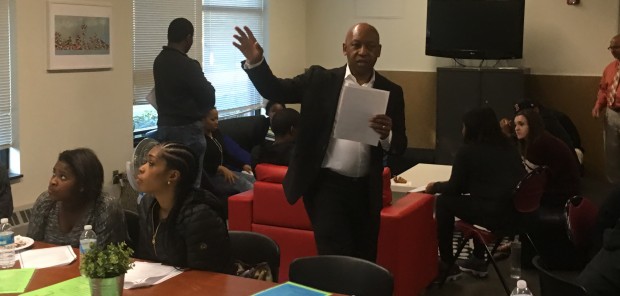 Don Cameron, executive director of Seattle Cares Mentoring and the 4C Coalition (Clergy, Community, Children-Youth Coalition, a mentoring group started in 1999), spoke at this event … "We need to offer hope. Hope for safer places. Hope for opportunities to thrive."
Culturally relevant approach
At 4C Coalition, we understand how race, equity and social justice impact our schools, families and communities. Our evidence-based programs start from a place of healing, acknowledging the chronic trauma that has impacted Black communities for generations. Our mentoring and tutoring programs are a proven approach to help mitigate this historic damage and show our young people a positive path forward.
Proven leader in mentoring
The 4C Coalition has served more than 2,000 youth in the past 20 years through one-on-one and group mentoring programs. Our caring staff and facilitators recruit and train Black adults from the local community who help at-risk students set and fulfill realistic educational and vocational goals. Along the way, our mentors provide support, counsel, friendship and a positive role model.
Changing lives!
Watch how Olivia turned around her life – thanks to mentoring support from 4C Coalition!
At 4C Coalition, our programs build trust, instill pride and encourage competence with the help of adult mentors from the community.
Thanks to our partners




Find out the latest from 4C Coalition
India Association of Western Washington supports 4C

The India Association of Western Washington recently donated $2,500 to the 4C Coalition to provide incentives to youth. "We are blessed beyond words for the support of the people from the India Association who have stepped up to provide tutoring for 4C youth," said Hazel Cameron, executive director, 4C Coalition. "This wonderful organization and the […]

4C Coalition receives $50,000 grant from Seattle Foundation

The 4C Coalition was recently awarded a grant of $50,000 from the Seattle Foundation. The grant is part of the Seattle Foundation's commitment to focus more on racial equity by targeting grants to Black-led nonprofit organizations in King County who are serving the Black community. Founded in 1999, the 4C Coalition is a Seattle-area nonprofit […]