GROUP MENTORING
At its core, mentoring tells our young people that someone cares about them, that they have worth, and that are not alone in dealing with day-to-day challenges. Caring adult mentors play a powerful role in providing our youth with the tools they need to make responsible decisions, stay in school, and reduce or avoid risky behavior.
Group mentoring helps us address the ongoing shortage of adult mentors —an unavoidable result of our firm and necessary policy that one-one-one mentoring be gender-matched. Our mentors are carefully trained to provide our youth with much-needed advice, friendship and encouragement.
Because we often have more youth awaiting mentors than we have mentors available, the group approach allows us to serve more young people in a caring, supportive and non-judgmental environment.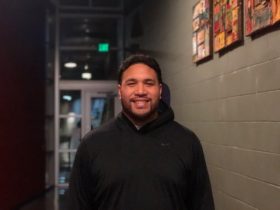 Meet a mentor: Alameda Taamu
How did you get involved with mentoring? Working with and influencing kids is one of the things I want to do. I heard about the group mentoring program from a couple of my advisors at the UW. I played football at the UW and signed with the NFL before I graduated. Now, after four years of pro ball, I'm back in school to finish what I started and get my degree.
Who were your mentors? My father, who's a retired pastor, and John Reed, the high school coordinator at Union Gospel Mission, come to mind first. Also, there's Trent Pollard, my high school football coach at Rainer Beach High School, and UW coach Nick Holt. I've been blessed to have so many mentors in my life.
What is the most rewarding thing about being a mentor? It's rewarding when I'm with mentees and I have their undivided attention. It feels good when I've been able to tell them some of the mistakes I've made, hoping they will take it to heart and think about decisions they're making.