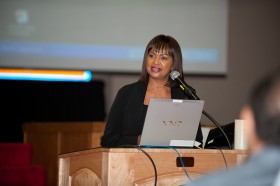 As we reflect on the many things we achieved in 2014 and look ahead into the remaining months of 2015, we're excited to share some 4C Coalition accomplishments and news with you.
Our future looks bright. We continue to build bridges with partners like the City of Seattle, United Way, the City of Kent, King County Superior Court, Casey Family Program, National CARES Mentoring Movement, Seattle Foundation, and other supportive groups.
With help from United Way Volunteer Impact and 501 Commons in 2014, we wrote our skill-based volunteer induction manual. The manual provides job descriptions for skilled volunteers to assist us with social media, office administration, and program management.
Contributions from United Way also helped us develop a girls' group. Employee Olivia Ford—who was once a 4C mentee herself—wrote the grant application (her first) and developed the group. The girls' group invited young women to create a dream board and reflect upon their future goals while also learning about the history of Martin Luther King and civil rights.
We started four other group mentoring gatherings in 2014. Group mentoring is generously funded by SYVPI (Seattle Youth Violence Prevention Initiative), the City of Seattle, KCSC (King County Superior Court), and United Way.
Last year, we traveled with eight youths and five mentors to the National Black Criminal Justice Youth Mentoring Summit in Orlando, Florida. While there, we were wowed and proud to witness one of our youths win the summit's youth spelling contest! Another of our youths who attended met with leaders from the federal government and sat on a panel with fellow African American youths from across the country, dignitaries from the State Department, judges, and criminal justice experts.
The 4C recently launched a database project to review and track the youths we serve. This database will help tell a statistical story to donors, funders, and policymakers about the work we do in the community.