GROUP MENTORING
Group Mentoring is a new program for the 4C Coalition that is based upon a familiar idea. We believe the group dynamic will help address the shortage of male mentors — an unavoidable result of our firm and necessary policy that the one-one-one mentoring relationship be gender matched between mentor and mentee.
We fear the tragic consequences for society when insufficient numbers of men sign up for the mentorship role, while a large number of youth boys await mentors. Particularly when the wait exceeds a youth's ability to hang on and resist other influences.
We must address these critical issues:
A disproportionate number of youth we serve are African American males who more readily form a trusting bond with African American mentors.
Despite our targeted effort to recruit African American men as mentors, few men volunteer to mentor our at-risk youth.
Adults who volunteer as mentors appear statistically in this numeric order (highest to lowest):
1. White women
2. Women of color
3. White men
4. Men of color
UW Student-Athletes as Mentors
Several UW student-athletes served as 4C mentors.They participated in a 4C group mentoring program that met once a week at Yesler Community Center. Other UW athletes have shown interest in volunteering in the 4C group mentoring program and will join us in our fall meetings.
Interview with mentor volunteer John Ross, a member of the Huskies football team
Where were you raised:  "Born and raised in Long Beach, California."
How did you get connected with 4C mentoring? "One of my professors suggested I look into getting involved. While I get credit for doing this, it's not really about the class credit. I'm just interested in nonprofit organization for kids because that's something I would like to do sometime."
What is your role as a mentor?  "My role here is to inspire these kids. And, note how non-profits perform."
Did you have a mentor growing up?  "I've had many mentors and still do. I have really great parents who are my real mentors. I asked lots of people for advice and I consider them mentors. My coaches are also my mentors. My grandmother used to tell me that I have two ears and one mouth and that means you should listen twice as much as you talk. So I listen."
Note: John and the other student athletes are participating in the PEN OR PENCIL (POP) Group Mentoring in Central Seattle. The program's goal is to inform and inspire a modern youth movement of engaged planners, leaders, and decision makers.Serving youth ages 12-17
Mentors seek to inspire critical thinking, life skills development, and youth activism — encouraging youth to choose the road away from incarceration and toward higher education.
To learn more about group mentoring
Russell Okung at Denny Middle School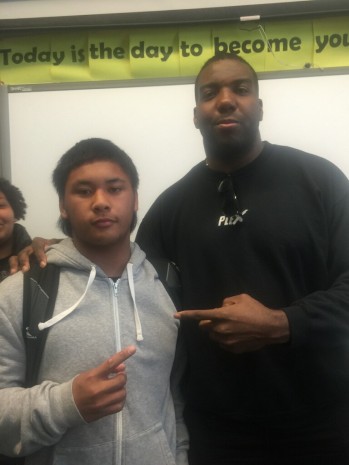 Russel Okung, pro football player, with Dustin, a 4C mentee at Denny Middle School.
Russell Okung, former Seattle Seahawk, now a Denver Bronco visited 4C mentees participating in our group mentoring program. His visit, scheduled later in the year, was last minute as has recently signed to play with the Denver Broncos and will be moving on.  As part of his visit, he met with 26 male students to inspire and motivate. He focused on the importance of passing their core classes and taking advantage of opportunities in life.
Group Mentoring Photographs: