GROUP MENTORING
Group Mentoring is a new program for the 4C Coalition that is based upon a familiar idea. We believe the group dynamic will help address the shortage of male mentors — an unavoidable result of our firm and necessary policy that the one-one-one mentoring relationship be gender matched between mentor and mentee.
We fear the tragic consequences for society when insufficient numbers of men sign up for the mentorship role, while a large number of youth boys await mentors. Particularly when the wait exceeds a youth's ability to hang on and resist other influences.
We must address these critical issues:
A disproportionate number of youth we serve are African American males who more readily form a trusting bond with African American mentors.
Despite our targeted effort to recruit African American men as mentors, few men volunteer to mentor our at-risk youth.
Adults who volunteer as mentors appear statistically in this numeric order (highest to lowest):
1. White women
2. Women of color
3. White men
4. Men of color
Meet Some 4C Group Mentors

Alameda Taamu            
How did you get involved with mentoring?   "I wanted to get involved with the program because working with, and influencing young kids is one of the things I want to do moving forward. I heard about the 
group mentoring program from a couple of my advisors at the UW. I played football at the UW and signed with the NFL before I graduated. Now, after four years of pro ball I'm back in school to finish what I started and get my degree.
"Who were (or are) your mentors?  "My father, who's a retired pastor, and John Reed, the high school coordinator at Union Gospel Mission come to mind first. Also, there's Trent Pollard, my high school football coach at Rainer Beach High School, and coach Nick Holt at UW. I've been blessed to have so many mentors in my life.
"What is the most rewarding thing about being a mentor?   "It's rewarding to me when I'm with mentees and I know I have their undivided attention. It feels good when I've been able to tell them some of the mistakes, I've made … in hopes that they will take it to heart and think about decisions they're making."
Nick Abraham
How did you get involved with 4C and mentoring?   "I heard about the 4C mentoring program from my friend Rick Dupree, I'm currently mentoring five youth and am preparing to do after school mentor programing at three local middle and high schools.
Who were (or are) your mentors?  "I was lucky that I had several mentors after I became an adult … my parents did a great job raising me, but I also had the village as a child."
 What is the most rewarding thing about being a mentor?  "I've been mentoring kids for a long time. So, what's most rewarding to me is seeing some of the youth that I mentored 25 to 30 years ago living successful lives as adults. Some of them have played pro sports and some are now doctors, lawyers, and successful business men and women."
What is the most challenging thing about being a mentor?  "Observing parents who are not raising their kids to be the best from my perspective that child can be. I have to, a lot of times, be a mentor to the parent as well as their child."
Anything else you want to tell me about yourself?  "I semi-retired back in 2006 … I was a fitness and general manager at many fitness centers for many years and still enjoy working out and lifting weights. I have coached strength training for many years. And have used that a platform to reach youth and influence their lives in a positive way. I'm actually currently writing a book about my 35+ years working with youth."
John Ross

How did you get connected with 4C mentoring? "One of my professors suggested I look into getting involved. While I get credit for doing this, it's not really about the class credit. I'm just interested in nonprofit organization for kids because that's something I would like to do sometime."
What is your role as a mentor?  "My role here is to inspire these kids. And, note how non-profits perform."
Did you have a mentor growing up?  "I've had many mentors and still do. I have really great parents who are my real mentors. I asked lots of people for advice and I consider them mentors. My coaches are also my mentors. My grandmother used to tell me that I have two ears and one mouth and that means you should listen twice as much as you talk. So I listen."
Note: John and the other student athletes are participating in the PEN OR PENCIL (POP) Group Mentoring in Central Seattle. The program's goal is to inform and inspire a modern youth movement of engaged planners, leaders, and decision makers.Serving youth ages 12-17
Mentors seek to inspire critical thinking, life skills development, and youth activism — encouraging youth to choose the road away from incarceration and toward higher education.
Russell Okung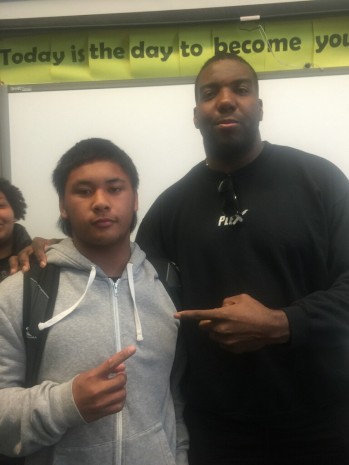 Russel Okung, pro football player, with Dustin, a 4C mentee at Denny Middle School.
Russell Okung, former Seattle Seahawk, now a Denver Bronco visited 4C mentees participating in our group mentoring program. His visit, scheduled later in the year, was last minute as has recently signed to play with the Denver Broncos and will be moving on.  As part of his visit, he met with 26 male students to inspire and motivate. He focused on the importance of passing their core classes and taking advantage of opportunities in life.
University of Washington Football Players as Mentors
Several UW student-athletes are currently serving as 4C mentors.They are participating in a 4C group mentoring program that meets once a week at Yesler Community Center.
By Hazel Cameron, Executive Director, The 4C Coalition
Th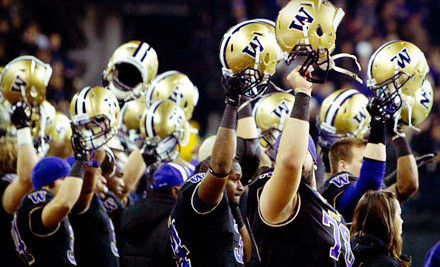 We are huge fans of the nationally ranked University of Washington football team. We celebrate their excellence on and off the football field. Several of the players recruited through Seattle Cares mentored youth in our partner agency 4C Coalition group mentoring program that serves youth ages 12-17.
The program is designed to inspires critical thinking, skills development and activism. We're focused on helping youth make good decisions. A University of Washington professor, Dr. Terry Scott, suggested that her students get involved in their community by becoming mentors in our program.
With communication and coordination with the athletic department the U WA Student Athlete Mentoring Program was started.In January 2016, seven student-athletes agreed to participate.
They completed our mentor training program and committed to our Tuesday evening mentoring group. As the year progressed the student mentors facilitated the discussions. Huskies linebacker, Azeem Victor led a discussion on using social media. He emphasized the importance of being mindful of what you put out on social media. Defensive back Brandon Beaver led a discussion on prosperity and financial planning with one of the 4C mentees and wide receiver Dante Pettis was always present with a point of view that engaged more discussion.
Another group was led by Huskies wide receiver, John Ross, linebacker Ezekiel Turner, along with defensive back's Kevin King and JoJo Macintosh. They emphasized the importance of youth making good decisions, and to think about their actions before they act or speak.Student mentors get college credit for mentoring, but as John Ross said "it's not really about the class credit. I'm just interested helping kids, and in nonprofit organization for kids, in general, because that's something I would like to do some time."
The University of Washington student-athletes left a big impression with our kids. Our 12 to 17-year-old mentees were inspired. Feedback from parents was positive. Many of them reported distinct behavior changes in their children after completing the six-month program.
In May the student mentors participated in a symposium at the University and discussed the program to show what it can do… and have more student-athletes sign up for it.  In front of a packed audience the student-athletes talked about their experiences in the program.
Professor Scott reported, "there was not a dry eye in the room."The mentoring project has been adopted as part of the University of Washington Community Ambassador Program. Student-athletes from other sports have expressed interest in participating. Students will participate in mentoring on their off season. Some baseball players will be trained this fall, and football player will return during the winter quarter.
The Student Mentor Program has been added to the curriculum. Moving forward we are working closely with Roderick Jones, Connie So, PhD and other staff from the University of Washington Athletic Department.
In order for this partnership to happen the entire athletics department signed off, and was supportive of the athletes participating in community internships. Big hats off to the Huskies football players for their success this year. We can see their excellence on the football field… and we have first-hand knowledge of their excellence off the field.