Meet 4C Mentees …
Helena Crawford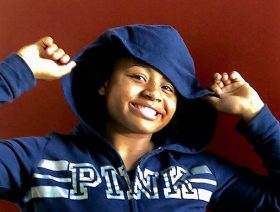 "I'm in the ninth grade at Green Dot Choice School.
I've been in the group mentoring program a month. I heard about it from my brother who has been in the program for a while.
I like coming. I like that's there's lots of social stuff … and we get into talking about goal setting. We also talk about school.
Don Cameron is my mentor. I have other people … but he's tops.
I'm a good student. I like science. I like school.
When not in school … I love to listen to R and B."

Diontrae McClain
What school do you attend?   "I'm in the seventh grade at Pacific Middle School."
Tell me something about your family.  "I have a brother who goes to school at Eastern Washington University. My mother is a single mother."
What challenges do you have?   "I have trouble with math and health class."
Who are the important people in your life?   "My Mom and my brother are the most important."
How did 4C come in to your life?  "This is my second year in the program … my mom thought it would be a good idea for me to get involved in the group mentoring program."
Tell me about group mentor meetings … The good and the bad.  "I feel like I'm learning some important life lessons so I can gain for other people's mistakes. Since I started coming my grades are up and my mom says my behavior has improved."
Anything else you want to tell me?  "I love basketball … I'm good … I'm a 'shooting' guard."
Tell me about group mentor meetings … The good and the bad.  "I especially like the social interaction. I'm not all that social at school so the meetings are good for me. We have a good time. We discuss how decisions we make can affect our lives … and to try to avoid poor decisions."
Anything else you want to tell me?  "I love to play all sports … have played basketball and baseball most of my life.

Davionte Miller
What school do you attend?   "I'm in the 11th grade at Garfield High School."
What chores or work do you do?   "At home I do lots of chores … I take our the trash,, do the dishes, make sure my bedroom is tidy and clean. And, I have a car that I take good care of."
Tell me something about your family.   "I have seven siblings. The oldest three are grown up … I'm the oldest of the four of us that live at home now."
What challenges do you have?   "Right now I'm struggling in Algebra …but I'm doing great in biology and physics. I really like our physics class. We do lots of hands-on stuff."
Who are the important people in your life?   "I'm very close to my mom and dad and my siblings."
How did 4C come in to your life?  "A friend of mine has been coming for a couple of years and he suggested I give it a try. This is my third meeting and I'm enjoying it. Plus I like the food we have here."
Tell me about group mentor meetings … The good and the bad.   "I like the part where we talk about making good decisions. So far, I'm liking it … there's nothing bad about it. I like listening to the mentors … I would like to have a one on one mentor."
Anything else you want to tell me?   "I'm on the Garfield High School football and basketball teams. I'm a running back on the football team and we are in the state playoffs … we're playing Snohomish High School this weekend."
College is Next for Savannah
One of our mentees, Savannah, was the valedictorian for the 2015 graduation class at Rainier Beach High School in Seattle. She has been mentored by Meghan Arbuckle since she was a 16 year old high school sophomore. Savannah is planning on going to college and we at the 4C Coalition are helping her navigate the college application process.
Two years ago Savannah traveled with Seattle's 4C Coalition to Washington DC for the 50th anniversary March on Washington Memorial Youth Mentoring Summit. As if that participation wasn't enough to do Seattle proud, Savannah then did one better and won first place in the "Spell it Like it Is" Spelling contest.
About the Washington DC experience, Savannah said, "I felt honored to be able to walk the same streets as people I look up to as heroes, such as Martin Luther King Jr., Barack Obama, former presidents, and congressmen and women."
"Also, being in Washington, D.C. gave me a new perspective on life because I saw that even though we're so far apart, Washington, D.C. and Seattle are more similar than different.  For example, Washington, D.C. having the history it has, I was surprised to learn that it has just as much poverty as Seattle."
Savannah also participated in 4C's Coalition's Pen or Pencil group mentoring program that focuses on connecting young people with the educational system (the pencil) to head towards success and keep them out of "the pen."